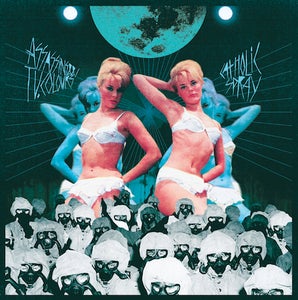 €

5.00 - On Sale
CATHOLIC SPRAY
The Catholics had to invent time travel or be attacked by Dr Krang just so they could snow upon our brain cells so much. At times as savage as a charging T.Rex and as doomed as a dyind succubus, they always keep their Jack the ripper's lancet sharp fuzz guitar sound at hand.
Nonetheless, it is challenging to try and recite the composing elements of such a sound nebula. From bad KFC lunch memory fueled balads to the wailing laments of a disarrayed gallant, these four boys surf on grimy waters.
Skipping from paradoxes to oxymorons and having fun with it, the Catholic Spray feels just like the wild bunch cast away in the lost world.
ASSASSINS88/TV COLOURS
One part noise, two parts punk, and one part pop, Assassins88 and TV Colours come from Canberra, Australia. The meeting of these two bands is as much of a kickass gutterpunk noise band as it is a glorious nostalgic pop punk band. Whoever said that is not a good combination is a fucking liar.
Limited edition 500ex.